Lexus has been a steady force in the automotive industry leveraging their strong arm for being one of the most reliable brands around, and for the 2022 model year, they bring us a redesigned LX, the new 2022 LX 600. The new LX 600 embodies a vehicle that has a dedicated fan base and one that will potentially grow now that the LX's stablemate, the Toyota Land Cruiser, is no longer offered here in the United States.
The new Lexus LX 600 cleverly retains some of its traditional styling cues even though it's a reworked platform.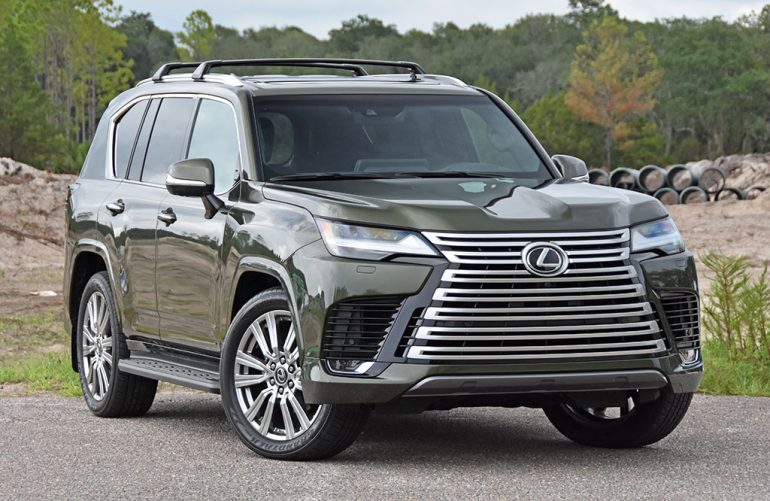 The body-on-frame segment of luxury SUVs still has a desirable place in the hearts of Americans who can foot the note of such vehicles. When it comes to the Lexus LX 600, there's a lot that's been thoroughly thought through to bring a better vehicle that's much friendlier at the gas pump without compromise thanks to it now utilizing a new twin-turbo V6 engine replacing the aged gas-guzzling V8.
The elegance of the LX has been elevated somewhat where it attempts to make a bold statement starting with its massive spindle grille, the largest grille ever on a Lexus. While such a characteristic may be an acquired taste for some, the LX 600 is easily identifiable and has many other traits that make its presence and mammoth-proportioned size noticed at just about every angle. Even the rear styling from its new blade LED tail lamps that have a light bar nearly running the width of the vehicle showcase the new signature branding and luxury appeal. Overall, the new LX 600 looks the proper part of Lexus' largest vehicle settling on an approach to avoid offending many, unless you don't like large grilles.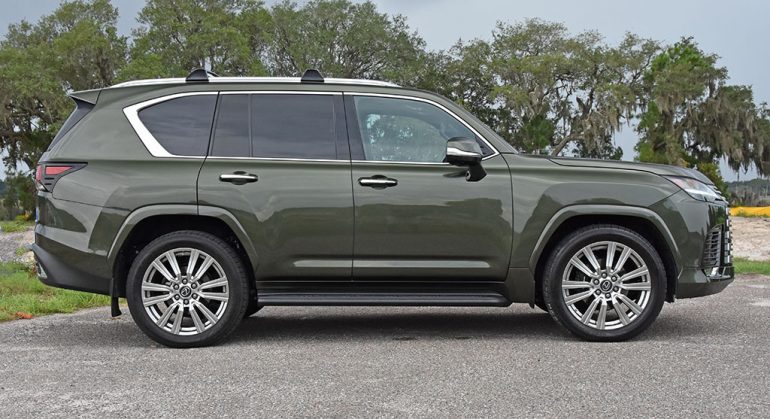 Performance and Driving Character
The new Lexus LX 600 has a new powertrain that does away with the old V8 in the LX 570 and replaces it with a 3.5-liter (technically just under 3.5-liters) twin-turbo V6 engine good for 409 horsepower and 479 lb-ft of torque. The engine is mated to a new 10-speed automatic transmission that has excellent tuning for its logic in deciding on the proper gearing in most situations and is exceptionally smooth during shifts. In a quick nutshell, I don't miss the old V8 engine at all in driving the new LX 600 with its twin-turbo V6. The new turbo V6 is at home in the LX 600 hardly ever feeling like it needs extra power. Moreover, the turbo V6 sounds decent, too, with a slight rumble that's partly muffled out to fit the Lexus theme of luxury. Zero to 60 mph takes 6.7 seconds as my best time, which isn't bad for such a big vehicle.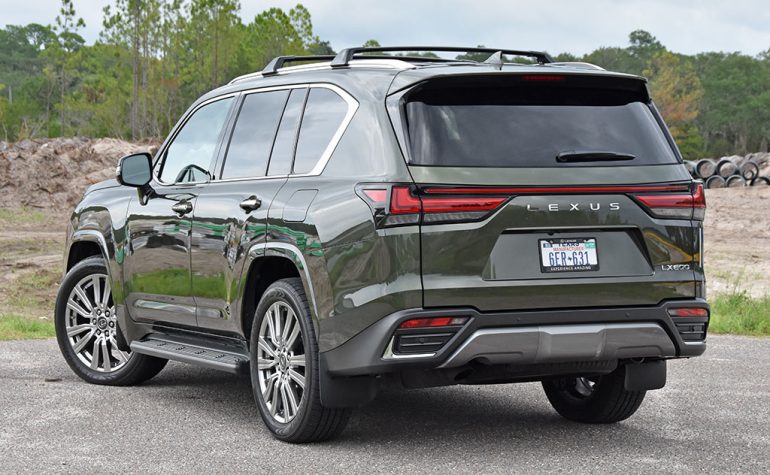 The new engine feels powerful enough for what you throw at the LX and it's a smooth operator that finds its place at home with the LX's stiff chassis that's at the mercy of its 22-inch tires and soft height-adjustable suspension. Here, the LX 600 may leave some a little uneasy as it tends to have almost scary amounts of body roll when you put it into a long turn or curving road, even with the claimed improvements to reduce body roll compared to the old LX 570. The LX 600 is initially soft in its ride comfort with only subtle changes in the adaptive dampers from its three modes of Comfort, Normal, and Sport. The drive modes, a total of six (Eco, Comfort, Normal, Sport, Sport S+, Custom) also have subtle changes to the steering feel from the new electric-assist steering rack, throttle response, transmission mapping, and adaptive damper setting. I like using the Custom drive mode so I can set the dampers into their Sport setting while leaving other perimeters in their normal place, so I don't burn up all my Premium fuel with the engine and transmission being more aggressive in a sport setting. At least with the dampers in the Sport setting the body control is slightly better as the LX 600 likes to dance around a bit in the front. I won't go as far as to say the LX 600 handles horrible, but you're going to want to at least watch your speed entering sharp corners and turns. Otherwise, the LX 600 has a smooth ride quality and mostly keeps the passengers in the rear appeased with its smoothness and some compliance.
While acceleration is strong and has a nice midrange power band, braking is assured where the pedal feels boosted but not overly boosted like the outgoing LX 570 felt. Lexus seems to have learned a little with the braking feel and it's now tuned much better in the new LX 600 using its 4-piston brake calipers up front.
Driving the LX 600 is a surprisingly easy task where it may initially feel a bit overwhelming by its intimidating size. While there's no getting around the massive size of the LX 600, the driving character is good and only negatively influenced by some of its design elements with the primary one being its hood that has a visible center valley that gives it the perception of being larger than it is. The 8.9 inches of ground clearance can be changed through the height-adjustable suspension setup, which is an option on all trims except my top-level Ultra Luxury trim test vehicle where it comes standard. The Active Height Control suspension does wonders to quickly lower the vehicle for easy entry and exit and raise the height for conquering rough terrain in conjunction with using the unique Multi-Terrain Select system with downhill control, full-time four-wheel drive with a low range setting, crawl control system, and having a Torsen center differential. The LX 600 isn't shy about getting dirty and tackling some serious terrain despite the Lexus badge.
Using the new platform of the Toyota Tundra, Sequoia, and global Land Cruiser, the LX retains its truck roots but does so with a more cohesive feeling that's noticeable after jumping in and driving. There's a nice dampened and substantial feeling to the LX 600 that plays well brings out its luxury theme. At times, you can feel its 5,945-pound curb weight (5,665 pounds in the base trim), which, thankfully, is slightly down from the previous generation. However, there's a welcomed and improved smooth feeling to everything you touch, including the steering effort, which feels more connected and natural than before making it easier to drive the big LX 600. Towing has also been improved over the outgoing LX 570 where it can now tow up to 8,000 pounds in any trim level.
Fuel Economy
As you expect, the new LX 600 is much improved over the outgoing LX 570 when it comes to fuel consumption. I saw a respectable overall average of 19.1 mpg with slightly more city driving than highway over the course of a week. I averaged about 21.7 mpg on the highway steadily cruising about 75 mph. The EPA estimates for the new LX 600 are 17 mpg city, 22 mpg highway, and 19 mpg combined. Surprisingly, I burned through a full tank of the required Premium fuel in a short period of time and wondered why. I later found out that the tank size is just 21.1 gallons, which is smaller than most vehicles of this size and class.
Interior and Tech
With the redesign of the Lexus LX comes the opportunity to right some wrongs, one primarily being the design of the rear cargo area where the third-row seats of the outgoing LX 570 folded up and to the sides taking up valuable cargo space. Now, the LX 600 utilizes a traditional flat-folding setup. However, in the Lexus LX 600 Ultra Luxury trim in my possession this week, there are only four seats to contend with, which are not foldable because the rear seating is a special place. This special place is where you can enjoy a myriad of massaging functions, seat heating, seat ventilation, multiple angles of flowing air, a wireless charging pad, and a unique reclining action for the passenger-side rear seat with a fold-out ottoman for the ultimate in luxury enjoyment when you're being chauffeured to your destination. The seating setup is interesting as the passenger-side seat, which adds the ottoman and additional leg space by motoring the front passenger seat forward, is somewhat elevated and can be an odd position for some – partly due to the LX 600 having a live rear axle keeping the floor raised a bit. Those who are over 6 feet tall may want to take extra time to climb into the back considering the rear doors have a somewhat small opening. The headroom is just enough for my 6-foot-3-inch frame where you feel like you have stadium seating giving you a clear view of the motorized-tilting entertainment screen mounted on the back of the front passenger seat, which has directional privacy glass filter.
While Lexus did do justice for making a special place for two rear seat passengers in the LX 600's Ultra Luxury trim, the front seats seemed to have been left out of the special-treatment equation as they do not offer a massaging feature nor a wireless charging pad (possibly due to the chip shortage). Though, the front seats are exceptionally comfortable, among the best in the business – no kidding. They have heating, ventilation, and a plethora of power adjustments, so there's that. There's no problem finding the optimal driving position with plenty of seat motion and a power tilt-telescoping steering wheel with a vast range of adjustability. There's also access to an airconditioned cool box under the front armrests.
Up front there are plenty of soft-touch surfaces, open pore dark wood trim, and a high level of quality from the materials – even many of the plastics feel premium, as you would expect. There's a new infotainment setup that utilizes the latest Toyota/Lexus unit fed through a 12.3-inch touchscreen. The system is a simplistic approach where each core function can only be displayed across the full screen at one time with no option of a split screen setup. The system works great and has many functions that are reliant on internet connectivity and the setup of personalized users. There's also wireless or USB-connected Apple CarPlay and Android Auto. Lexus added another layer of the system by including a separate 7-inch touchscreen that is dedicated for the 4-zone automatic climate control system and several vehicle control systems. The use of the system I think is great to have a designated area for control of things like the easy-exit-lowering height-adjustable suspension feature and display of the Multi-Terrain Select drive mode settings.
There's a new digital gauge cluster that is also rather simple in its execution but looks the part of being in a large luxury SUV. The large color heads-up display is simple but comes in handy for quick viewing of vehicle information, speed limit sign, a digital speedometer, and navigation turn directions.
Again, I would have liked to see front massaging seats and possibly soft-closing doors and power running boards instead of the fixed ones offered for the new LX 600, which I think would be a few items to better complete the luxury theme. Otherwise, Lexus has done well to improve upon the essential luxury expectations and at the same time offering this Ultra Luxury trim to compete with other specialized 4-passenger large luxury SUVs.
Safety
As you expect, there's a plethora of active safety features blanketing the new LX 600, including the traditional lane-departure warning, lane-keep assist, forward collision warning with emergency braking, blind-spot monitors, rear cross-traffic alert, adaptive cruise control, automated parking system, digital rearview mirror display, and a 360-degree camera system.
Price
The new 2022 Lexus LX 600 in the base trim starts at $88,245 before any fees or options, which is respectable for the decent list of standard features and its capable powertrain and chassis. While I believe the new Lexus LX 600 is properly priced for most of the other trim levels, the Ultra Luxury trim testing out at $128,030 may be somewhat of a bitter pill for some to swallow. However, considering unique competition like the 4-passenger Range Rover SV Signature Suite cost upwards of $200,000, the LX 600 Ultra Luxury is a bargain even though it may not have the poshness of its specialized competition.