Queen Elizabeth is one of the world's most famous horse lovers. With lockdown restrictions easing, equestrians all around the world are getting straight back to horseback riding, and Her Majesty Queen Elizabeth is no exception.
This weekend, the queen was pictured riding Fern, her 14-year-old Fell Pony around the grounds of Windsor Home Park.
Many people say that the horse-loving gene is passed down from generation to generation, and that may very well be the case.
Then-Princess Elizabeth was given a Shetland pony named Peggy at age four. By age six she was spending her free time riding Peggy wherever she could.
The Queen was an accomplished equestrian by the age of eighteen and would frequently ride for pleasure as well as in a ceremonial role. Until 1986 she would attend the annual Trooping the Colour ceremony on horseback.
Her first horse for such prestigious events was a bay police horse called Tommy. However, in 1947 when her father King George VI was unwell, she would ride his chestnut horse named Winston.
After George VI's death, she continued to ride Winston. Her next mount was another chestnut named Imperial.
Then, like many of us, the Queen found a long time companion. A black mare named Burmese was given to her as a gift from the Royal Canadian Mounted Police in 1969.
Burmese was a favored mount of the Queen from that moment on. Burmese was retired in 1986 after her last public appearance.
She proved to be irreplaceable, as the Queen no longer attended the Trooping the Color on horseback after Burmese's retirement.
View this post on Instagram
A post shared by TOWN&COUNTRY (@townandcountrymag)
The Queen's Racehorses
Queen Elizabeth is a horse lover and racehorse owner. She initially inherited her racing horses from her father in 1952.
The Queen's silks, worn by jockeys riding her racehorses, are the very same colors as used by her great-grandfather, King Edward VII. They are a striking purple and scarlet jacket with gold braiding and a black cap.
The Queen takes an active interest in her racehorse's lives and she visits them at least once a year.
Recently, the Queen enjoys riding Fell ponies as often as she can. Typically, she rides each weekend between other royal duties.
Her current favorite is a beautiful black mare named Carltonlima Emma and the two have a close bond. She is often seen riding with Head Groom, Terry Pendry.
Queen Elizabeth's Horse Conservation Efforts
The Queen breeds her beloved Fell ponies at Hampton Court. She also maintains a herd of Shetland ponies at Balmoral in Scotland.
In 2007, she opened a full-time Highland pony stud at Balmoral to aid in the preservation of the breed.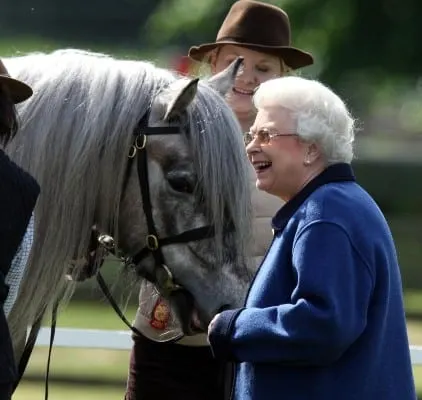 She is also credited with saving the Cleveland Bay, an endangered breed of horse. By 1962, there were only four purebred stallions in the United Kingdom.
Queen Elizabeth purchased one of the stallions to stand him at stud to purebred and part-bred mares. In a few decades, the horse breed has come back from the brink of extinction.
Though is never photographed wearing a helmet, a biographer says she has always been the "epitome of caution and common sense" while riding.
It is anticipated as the Queen will ride as long as she is able to. She has said that she loves riding because it allows her to be "just another human being."
Featured image by photographer Kelvin Bruce (permission granted).
Source: https://horseyhooves.com