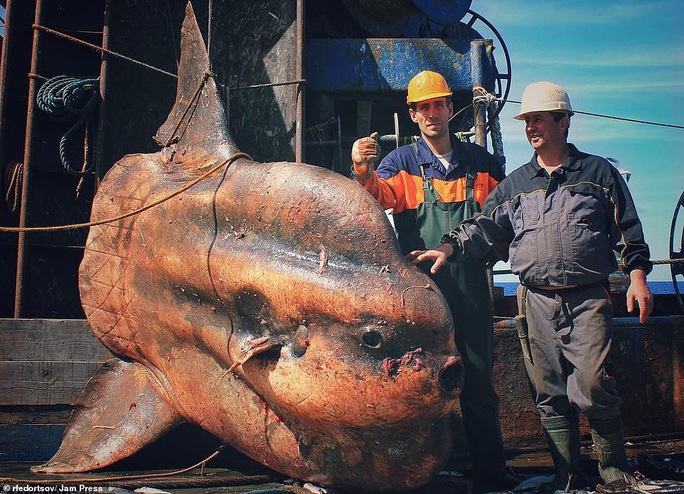 Ceuta is an autonomous territory of Spain, bordering Morocco.
The giant sunfish was rescued in a state of being stuck in a fishing net. This massive creature measures 3.2 meters long and 2.8 meters wide.
Enrique Ostale, head of the Marine Biology Laboratory at the University of Seville in Ceuta, estimated the sunfish weighed about 2 tons.
"We tried to weigh it, but because it was so heavy, up to thousands of kilograms, we had to use a size comparison and estimate method," Ostale told CNN.
Ostale said the team worked with local fishermen using nets to catch tuna. Other fish caught in the net were photographed by the fishermen and sent to the research team before being released back into the sea.
The huge size of the sunfish is the reason why Ostale and his colleagues decided to come and see it with their own eyes.
Because the animal was too heavy, the team had to use a crane to lift and drop it into a large water tank right on the ship. The team measured the size, photographed and sampled the giant sunfish's DNA.
"I was really impressed, having only seen them in the scientific literature before," Ostale said. "We gathered information very quickly to release it into the ocean."
According to Ostale, sunfish weighing more than 2 tons is not unheard of, but very rare, especially in the waters off Ceuta. Common sunfish weigh from 247kg, some individuals weigh up to 2.3 tons.
"Watching it is one thing, finding it alive, swimming freely is another," he said. "We feel very lucky."
Dr Tierney Thys, a marine biologist and research associate at the California Academy of Sciences, said: 'Sunfish are the size of a lump, like the strange balls of the ocean.
The world's largest sunfish ever recorded in Japan, 2.7 meters long and 2.3 tons in weight. Some babies have been found to be up to 3.3 meters long, but have never been weighed.