Frederick The Great, also known as World's Most Beautiful Horse, turns heads wherever he goes. One glance at the horse makes it obvious as to why he's known as the most beautiful horse in the world.
Although the Friesian horse breed is considered one of the most beautiful horse breeds, Frederick The Great takes beauty to a whole new level.
Born in the Netherlands, he was imported to the United States when he was six years old. Now living at Pinnacle Friesians, a farm in the Ozark Mountains of Arkansas, he is a pure-blood Frisian stallion.
Frederick the Great's Social Media Following
Frederick the Great has always had quite a fan base and currently boasts over 92 thousand "likes" on the Frederick The Great Facebook page. Frederick The Great is trained in Dressage and always leaves quite an impression when he steps into the arena.
The now 18-year-old stallion is referred to as the "real-life black beauty" or "Storybook Stallion" for his remarkable good looks.
Stacy Nazario, the owner of Pinnacle Friesians, said that there was something very special about the stallion when she first saw him. She purchased him and brought him to her farm in Arkansas.
"He lights up when he's in the arena or when there's photography going on. It's almost like watching a celebrity, you know, the difference between when they're at home and under the lights," Nazario said.
The jaw-dropping stallion has even been a guest star on the Late Show with Stephen Colbert.
Nazario also notes that Frederick The Great is a gentle giant. "His temperament is sweet," Nazario states. "I could put a baby right next to him and he would just be gentle with it."
His Makeup Routine
Like many of us, Frederick The Great has a very intensive beauty routine. "It usually takes about three hours," Nazario said. "To wash his mane, to condition his mane, to dry his mane," she added.
It is easy to see how this captivating stallion has won the hearts of thousands of people across the globe. "People fly in from all over that want to just be with him," owner Stacy Nazario said.
It's clear to see why this stallion is so loved by his adoring fans from around the world. His style, class, and beauty truly sets him apart in the horse world!
The most beautiful horse in the world will continue to leave his mark on our hearts for years to come.
Below is a stunning video of Frederick:
More photos: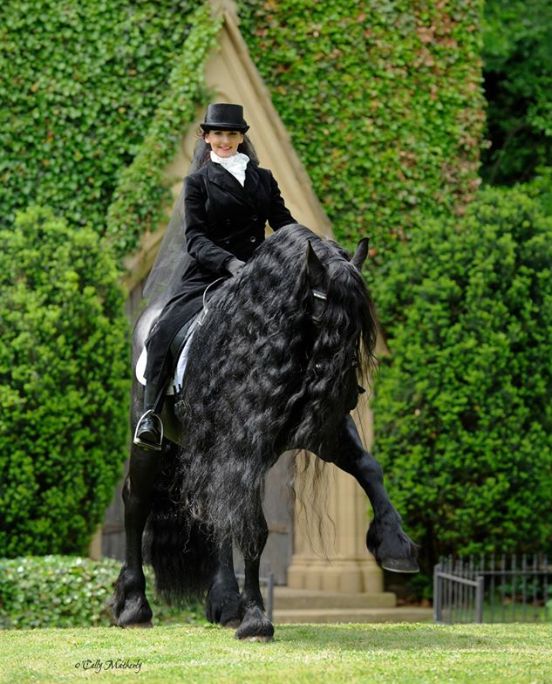 Also read:
8 Interesting Friesian Horse Facts
Source: https://horseyhooves.com